Da Kine Pyro Neon Orange Waist Harness 2016
Brand: Da Kine
2016 DA KINE PYRO Waist Harness
Harness the power for your traction activities - waist style harness suitable for all land and water based activities.The Da Kine Pyro 2016 Waist harness is one of the most minimal, body conforming waist harnesses. Completely redesigned using Da Kine's unique multiple panel outer shell to create the best fitting waist harness ever. The inner is specifically designed to give lumbar support and comfort with or without a wetsuit.
FEATURES
New easy clip Power Clip Lock buckle system
Constructed in tough durable PU Vinyl
Memory foam pressure point relief zones
New freedom shape spreader bar pad
Hammerhead Stainless Steel Spreader Bar
Dual blade hook knife
Pre-curved P .E.B. inner support structure
Featherweight ES foam molded interior
Spreader bar hold down webbing strap
Two side key/knife pockets with elastic loop
Left or right side leash attachment ring
Independent primary and secondary power belt
Integrated handle and leash attachment
Maniac Sliding Spreader Bar Compatible
SIZES
XS= 28-30" [ 71-76cm ] SB= 8" [ 20cm ]
S = 30-32" [ 76-81cm ] SB = 10" [ 25cm ]
M = 32-34" [ 81-86cm ] SB = 10" [ 25cm ]
L = 34-36" [ 86-91cm ] SB = 10" [ 25cm ]
XL = 36-38" [ 91-96cm ] SB = 12" [ 30cm ]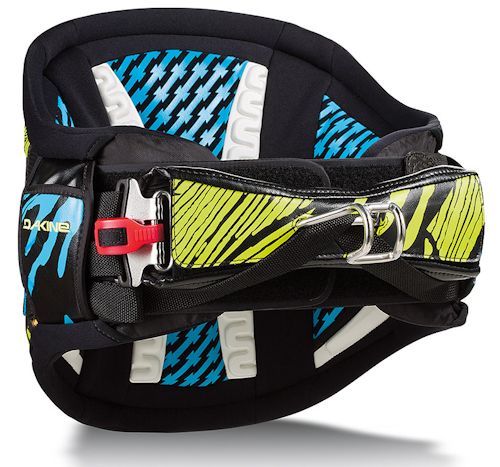 Included:Spreader Bar and Pad
For more info see the Da Kine website
Kite Harness Clip Lock On and Off from DAKINE on Vimeo.
More Harness Kite and others in our range