Description
Trusted Trailboss Towbar for BMW X6 E71 SUV.
Years: 5/08-12/14
Capacity KGS: 2700/270
Fitting at one of our 3 Perth Metro Locations
Class 4 Towbar. 50mm x 50mm Removable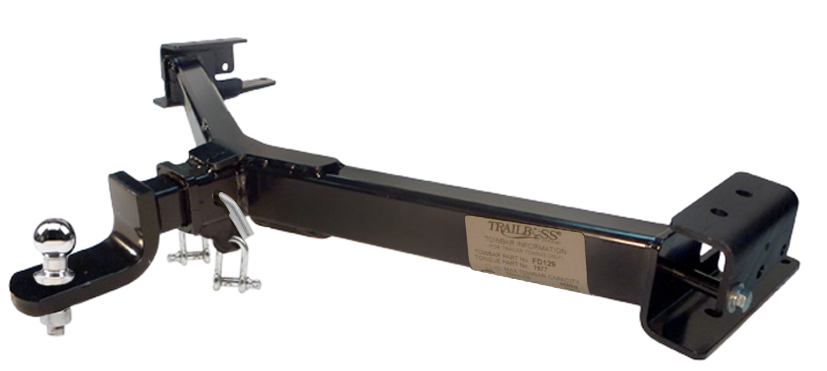 Class 4 Towbar with Removable Tongue
Heavy Duty Towbars Class 4 General Information
Heavy duty towbars, or Class 4 towbars, are designed for towing applications up to 3.5 tonnes.
Like Class 2 towbars, they come with plug and play wiring and have been designed to fit a range of vehicles with higher tow ratings; such as 4WD's and SUV's.
Trailboss Heavy Duty towbars have a 50mm x 50mm hitch receiver for the easy use and removal of a variety of trailer ball mounts.
They are also fully compatible with Weight Distributions Systems except where stated on some vehicles.
Check above if this towbar states in the description whether it is class 4 or class 2 for this vehicle
Class 4 towbars are convenient in that the towbar part - the toungue - can be removed and placed in the boot of the car for when it needs to be used. This can help avoiding cracking your shins or knees when moving around your car at night.
Class 2 towballs can often have the towball section removed but it is more difficult to do. Generally larger vehicles can take class 4 towbars and small vehicles will take a class 2 towbars.
All our towbar systems are of course installed with a wiring kit and most modern cars now require an ECU or electronic control unit which is in place to protect the vehicles computer from being damaged by any trailer wiring shorts. If a trailer for your vehicle comes with an ECU, we will not install without it. The small amount you save initially pales into comparison with the big costs of replacing your cars computer should it get fried.
TOWBALL CLASSES EXPLAINED
Class Two
Class two is the 'lightest' of the classes. Most are only rated up to 1200kg and only suitable for towing small six by four trailers or solo motorcycle trailers. Class two towbars typically only use a flat tongue style hitch.
Class Three
Class three are for medium weight loads and are typically rated up to 1600kg. They are suitable for towing multi-motorcycle trailers, small boats, slightly larger trailers and compact cars. Class three isn't very popular as most buyers opt for a class four which can tow far more weight for only a slight increase in price.
Class Four
Class four towbars are primarily used for heavy-duty towing, as most are rated up to 3500kg. If you are hauling something big and heavy, such as a boat, horse float, caravan or car trailer, you will need a class four towbar. Weight distribution hitches are also compatible with this class of towbar.
The towbar that is right for me?
Your car owners manual will have a section that outlines what weight your vehicle can tow. This number determines which class of towbar is available to you.
Generally you will not find a towbar that is a heavier class than what your vehicle can tow. For example, if you drive a small hatchback that can only tow 1100kg, a heavy-duty towbar will likely not be available and offer no added benefits to you.
Alternatively, other vehicles will only accept higher classes of towbars. For instance, an SUV that can tow up to 3500kg will only have the option of a class four towbar.
It is important to check what your vehicle's tow capacity is so you know you can safely tow your boat, trailor loads of sand or whatever it is that you are towing.
Installation
Installation of a towbar generally will require the morning of the afternoon to complete. We will need your vehicle for 3 hours, sometimes 4 for most towbars. Occassionally some vehicles are more complex so we ask you to drop it in the morning and pick up mid afternoon.
*NO WEIGHT DISTRIBUTION HITCHES ARE TO BE USED ON ANY BMW - REFER TO YOUR BMW DEALER*
More BMW and others in our range